Strong answer for Patient CD
Fast, simple, and programmed production of patient CDs/DVDs straightforwardly from any methodology or any workstation. AGNA Patient CD
Agna CD is a proficient picture dispersion framework committed to every single demonstrative division. Agna CD is the best method for computerizing your clinic/center's result of Patient Disks. It permits smooth recording of clinical pictures from indicative gadgets onto CD and DVD media rapidly and proficiently. The product is completely viable with DICOM norms and permits the recording of clinical circles with various DICOM pictures. The easy to use studies-administrator board with worked in investigations program permits all reviews to be archived in one spot. The framework permits customized CD marks to be created with a particular logotype and patient subtleties AGNA Patient CD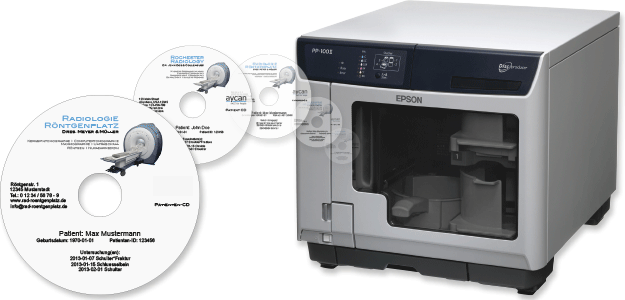 Fast recording and sharing DICOM clinical imaging studies onto CD/DVD AGNA Patient CD
Our item arrangement incorporates robots for copying, including PC control and programming for CD/DVD distributing. With a goal of up to 4,800 dpi and an extraordinary sublimation normal, the coordinated inkjet printer produces photograph reasonable prints on the media. AGNA Patient CD Inside a solitary cycle, the machine consumes and prints to 100 media. Through a web interface, a review can be looked from any gadget and a consuming position can be begun. AGNA Patient CD
Arwa Digital System Pvt Ltd is a software development and services company specializing in software products to Health care. Founded in 2005 and Headquartered in the USA, with additional wings in India, Kuwait, and Egypt. We aim to build enduring associations with every one of our partners, including the providers, clients, investors, and above all, the network. ADS has served many clients that include many of the major hospitals in the country and abroad.
Joined with 15+ long stretches of programming advancement ability, Arwa digital systems have broad area information in Health care that we have effectively consolidated into exceptionally modern programming frameworks and items. Ranging from small healthcare businesses to large, multi-centered, enterprise-class healthcare business systems and scaling to thousands of concurrent users, ADS can essentially deliver any kind of software package that meets the exact needs of your healthcare. For our regard for the necessities of both the patients and healthcare organizations, we made Agna- Innovation for healthcare, A well-integrated and innovative medical solution for hospital, clinic, and Diagnostic center.
We are an exclusive distributor for Aycan merchandise like RIS, Aycan Print, etc. and modules made for Osirix workstation's applications for special operations.